Sled Zeppelin
In October 2002 my wife and I bought some acreage in Northern Minnesota. The only way to get to the land is via some old logging roads which are dangerous at best during the Winter. I've also wanted to learn about engines since I knew very little, and the best way to learn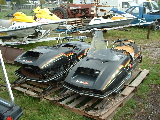 is to do. 1 + 1 = buy an old snowmobile to fix up
I saw these two sleds sitting in the yard at a rental place in Superior, WI. I asked the owner about them and he said one ran and one was for parts. He said he wanted $200 for them. Not knowing what they were worth, I told him I'd think about it. I came back the next day and offered $150. He said he'd take $175. Sold. I had planned on taking one back that day in my mini-van and then coming back the day after for the second one. There was no way it was going to fit, so I asked if I could rent a trailer. He said trailers were normally $50/day, but if I paid $200 for the sleds, he'd let me use the trailer for free. Sold again.

Arthur "Two Sleds" Jackson
I bought a third! Or it may be a second, depending on how you look at it. My cousin Shawn and I were driving around and spotted an engine shop/junkyard that's only about a mile from where I grew up but I'd never really noticed before. We poked around for a while and right before we left I saw a great looking Trailfire and decided I'd see if it had any parts I needed. The hood looked almost new, but it was missing the windshield, seat, and brake lever. I opened the hood and we saw that it was liquid cooled! A liquid cooled Trailfire? Obviously a Liquifire engine. The carbs and drive clutch were gone, but more or less everything else was there, including the CDI, very good looking track, like-new carbides, and a perfect recoil. Immediately I started thinking about how between this sled and my parts sled, I could build a pretty nice working one, and then began adding things up in my head to see how much I should offer.

I found one of the employees and asked what he wanted for it, to which he said "$100 or $150." I said I could swing $100 and he said he'd ask his boss. I came back later in the day and was told that he wouldn't go below $150 because that Trailfire hood was so valuable and worth $150 alone. Not really, but okay. He said that it was actually a Liquifire that someone painted up like a Trailfire as a sleeper so seemed like a really fast Trailfire and you could blow away some unsuspecting Trailfire owner if he pulled up next to you! HA!! That's a long way to go to beat a guy in a race. Anyway, I said "what if you keep the hood?" He went and asked and said they'd let it go for $100 without the hood. I then added a Comet 102c I'd seen in the yard to the deal, as well as the use of their trailer to haul it back to my folks' house (only a mile or two away). He countered with $120 and I accepted. Not bad for a good condition transgendered Liquifire!
Check out the diary page for a rundown of my adventures.
Special thanks:
I couldn't have gotten this sled running if it wasn't for the help of my Dad, my Grandpa, my cousin Shawn, and some folks who helped me through the magic of the internet: the good folks on the jdsleds.com message board, Snowjacks, and David Courtney (among others).